Popular Music Course – Violin is a programme for students over 10 years old.
The main goal of the course is:
Learning basic playing techniques,
A practical approach to teaching,
New motivation at every level,
The joy of playing in a group.
Who can participate?
Children from 10 years, teenagers and adults.
Lesson Duration:
45-55 minutes
Group size:
3-6 participants
Monthly fee for participation in classes:
PLN 299– see discounts available.
Wiktoria Tokłowicz conducts violin classes at our school.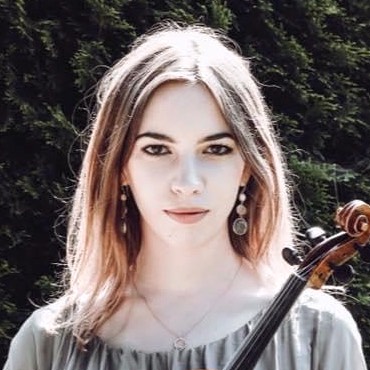 Wiktoria Tokłowicz
A graduate of BA and MA studies at the J.I. Paderewski Music Academy in the violin class of prof. J. Żołnierczyk.
She perfected her instrument playing skills using the Erasmus program at the Spanish university Musikene (San Sebastian).
From her early age she has participated in master violin courses and in musical projects, being an orchestra member on symphonic and entertainment stages.
From March 2020, she has been the leader and co-founder of the band Tokłowicz with Strings, combining the world of classical music with jazz improvisation.
She is fulfilled by passing on the knowledge of what she loves, i.e. music. Interested in art coaching.
It is important for her to feel happy while performing music.